In cooperation with the US-based Northwood University in Midland, Michigan, and Autohaus Wolfsburg, Professor Dr. Mike Hoffmeister, Professor of International Management at the Faculty of Economics at Ostfalia University, developed a pilot program to make the Wolfsburg location even more attractive for students from foreign partner universities.

The goal of the program is to provide "intercultural competence" for American students through a practical internship integrated alongside their studies at a company in the Wolfsburg region. " The students should compare and analyze the different work processes and methods of companies with those in their home country", says Hoffmeister, emphasizing that the students do not need to know German and will be accompanied by a trainee as a tandem partner during their internship.

" The Ostfalia Work & Study Program in Wolfsburg is very attractive for our American students," says Dr. Mamiko Reeves of Northwood University. Luke Gorlich was the first Northwood student to successfully complete his part-time internship at Autohaus Wolfsburg. Christian Roth, Manager at Autohaus Wolfsburg, says that " Luke was an exceptionally motivated intern. During his internship at Autohaus Wolfsburg, Luke Gorlich went through the SEAT/CUPRA, DUCATI, and corporate business areas." Luke Gorlich adds,"It's very impressive how the automotive industry in Germany differs from the USA. I was particularly fascinated by the very good social working conditions in the dealership. I don't see that in the USA." He also says, "I was able to learn a lot about German culture. I was surprised that Germans always say 'Mahlzeit' at lunchtime. The internship at Autohaus was one of the best experiences of my life."

" We will now gradually offer the program to students from partner universities in South Africa, Singapore, and Taiwan", says the international coordinator of the Faculty of Economics, Professor Dr. Denis Royer. To further develop the program, Royer and his team have already held discussions at Nanyang Polytechnic University in Singapore. " We plan to offer Ostfalia students the opportunity to gain work experience at companies in Singapore parallel to their studies in return", Royer said.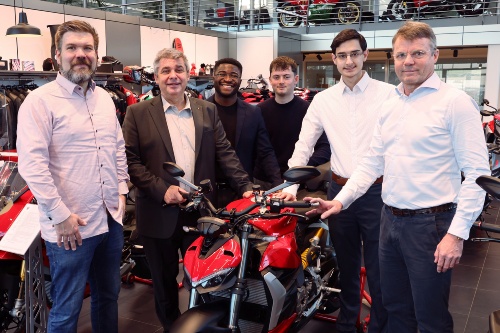 Photo: Photo Designer Matthias Leitzke


From left to right: Prof. Dr. Denis Royer, International Officer of the Faculty of Economics, Prof. Dr. Mike Hoffmeister, Program Initiator, Junior Ebot-Etchi and Nigel Black from Autohaus Wolfsburg, Luke Gorlich, Northwood University, and Christian Roth.