Program Overview 5th International Workshop

The conference is primarily aimed at building cooperations and partnerships in research and for publications. It is also intended for teaching and lectureships. It also supports the research projects at the Faculty of Trade and Social Work at Ostfalia University.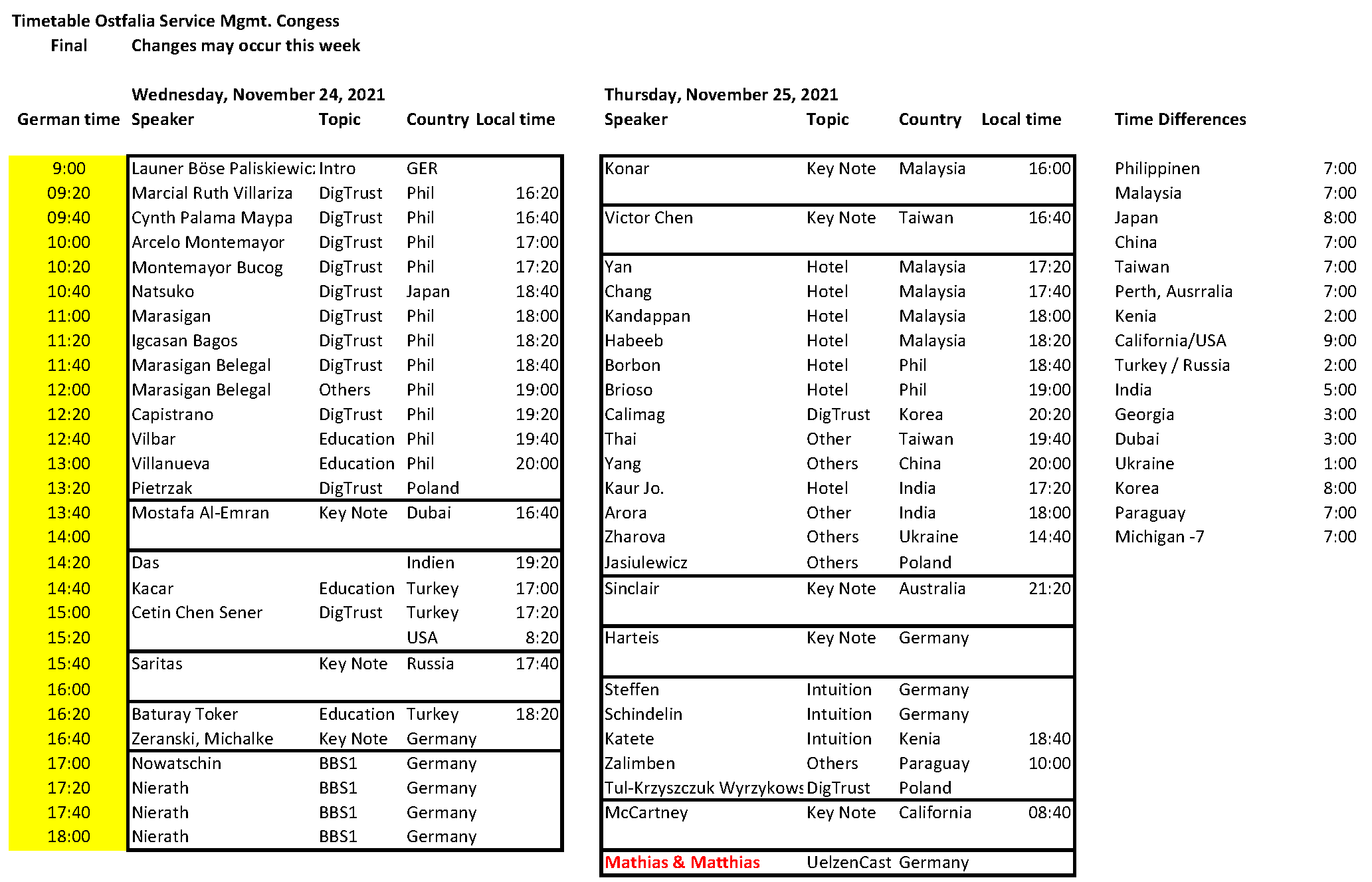 The times are in German time. Please check the respective starting time in your country.
Keynote Speeches & Co-Hosts
Wednesday, November 24, 2021
9.00 AM

Opening Remarks

Prof. Dr. Markus Launer, Ostfalia University

Minute of silence for Prof. Dr. Erich Spencer (R.I.P), Universidad de Chile

9.10 AM

Introduction to our international activities at Faculty H

Prof. Dr. Jürgen Wilhem Böse, Ostfalia University

9.15 AM

The new Core Model on Digital Trust @ the Workplace

Prof. Dr. Joanna Paliszkiewicz, Warsaw University of Liefe Sciences

9.20 AM

Our Research Paradigm Digital Trust @ the Workplace

Prof. Dr. Dave Marcial, Silliman University, Philippines and Visiting Professor to Ostfalia University, Campus Suderburg

11.20 AM

Digital Trust in Providing Gender and Anti-Sexual Harassment Support: The Case of an Online University

Prof. Dr. Joane Serrano, University of the Philippines Open University, Los Banos

12.20 PM

5A four-case analysis of Philippine consumer perceptions on digital trust

Prof. Dr. Erik Capistrano, University of the Philippines, Manila

13.40 PM
Dr. Mostafa Al-Emran, Faculty of Emgineering and IT, The British University in Dubai, Dubai, Editor in Chief of International Journal of Information technology and Lan guage Studies
15.00 PM

Trust Formation in the Digital Workplace

Prof. Dr. Fatih Cetin, Niğde Ömer Halisdemir University, Turkey

Kuanchin Chen, Professor of Business Information Systems and John W. Snyder Faculty Fellow, USA


15.40 PM

Prof. Dr. Ozcan Saritas, Professor for Innovation and Strategy, State University, Higher School of Economics, Moscow, Russia, and Editor in Chief Foresight Journal

16.20 PM

Do Demographics Affect Digital Trust in Education?

Prof. Dr. Meltem Huri Baturay, Director of CTL at Atılım University, Turkey

Sacip Toker, Associate Professor at Atilim University, Turkey

16.40 PM
Prof. Dr. Achim Michalke, Ostfalia University, study program Sustainability & Risk Management
17.00 - 18.00 PM

German students from Vocational School Uelzen present their research (in German language)

OStD Stefan Nowatschin, Head of Vocational School Uelzen 1

OStR Frank Nierath, Teacher, Vocational School Uelzen 1
Thursday, November 25, 2021
9.00 AM
Prof. Dr. Rupam Konar, Professor for Tourism and Hospitality, Taylor University, Malaysia, and Managing and Associate Director Editor of Asia-Pacific Journal of Innovation in Hospitality and Tourism
9.40 AM
Prof. Dr. Jengchung Victor Chen, Distinguished Professor of the Institute of International Management, National Cheng Kung University, Taiwan
11.00 AM

Drivers of Digital trust across the supply chain – An exploratory study

Prof. Dr. Kandappan Balasubramanian, Taylor University, CRiT Institute, Malaysia

14.40 PM
Dr. Marta Sinclair, Senior Lecturer in the Department of Business Strategy and Innovation, and member of the Griffith Asia Institute, Australia. Editor of the Handbook of Research Methods on Intuition.
15.20 PM
Prof. Dr. Christian Harteis, University Paderborn, Institut für Erziehungswissenschaften, Specialist in Intuition
17.40 PM
Dr. Francesca McCartney, Founder of the Academy of Intuition Medicine, CA, USA
18.00 - 20.00 PM

The Uelzencast Mathias & Matthias

Discussion roundtable in German
Friday, November 26, 2021
Program in German language for the local area of Uelzen. Detailled program please see here.
In cooperation with the Öko Model Region Uelzen about ecological farming and food processing.
Please see videos of previous Service Management Congresses here.