First students travel to South Africa, Finland and Portugal with scholarship from a new third-party funded project
Intensifying international networks in study, teaching, research and transfer is the aim of the project "InterAct! - International Activities", with which Ostfalia University of Applied Sciences was successful in the nationwide call for proposals in the HAW.International funding programme of the German Academic Exchange Service (DAAD).
Part of this Ostfalia project, which is located at the interface between the International Relations Office and the Knowledge and Technology Transfer, includes new mobility scholarships for the international exchange of students, teachers and researchers. In August, Lara Kurrle studying Media Communication and Julian Mayer studying Sports Management travelled to South Africa to spend the winter semester at the Nelson Mandela University in Port Elizabeth as the first "InterAct!" scholarship holders. "My motivation is essentially to get to know different cultures, especially in the areas of work and university," Julian Mayer tells us. "I also want to improve my language skills by spending a semester abroad."
Next to the scholarship for South Africa, the project team was able to grant further study visits for the winter semester in Finland and Portugal as well as scholarships for guest/visiting scholars. In autumn, a scholar from the Finnish partner university in Tampere will visit Ostfalia to spend one month at the Faculty of Civil and Environmental Engineering in Suderburg and at the Faculty of Supply Engineering in Wolfenbüttel. "These personal contacts strengthen awareness of international challenges and enhance intercultural competences and cooperation. Thus, our students in particular are more qualified for the increasingly international job market," reports Kai Hillebrecht, who manages the "InterAct!" project.
In April, his team already travelled to Finland for the International Week in Tampere; in autumn, a visit to the University of Wisconsin-Parkside is planned. "We are very excited about the broad interest in cooperation. Due to the restrictions since the beginning of the pandemic, it is important to reconnect with existing contacts and intensify the international exchange," says Hillebrecht.
The project "InterAct!" has started at the beginning of 2022 and will run for two years. It is funded by the Ministry of Education and Research and has an expected budget of 500,000 euros.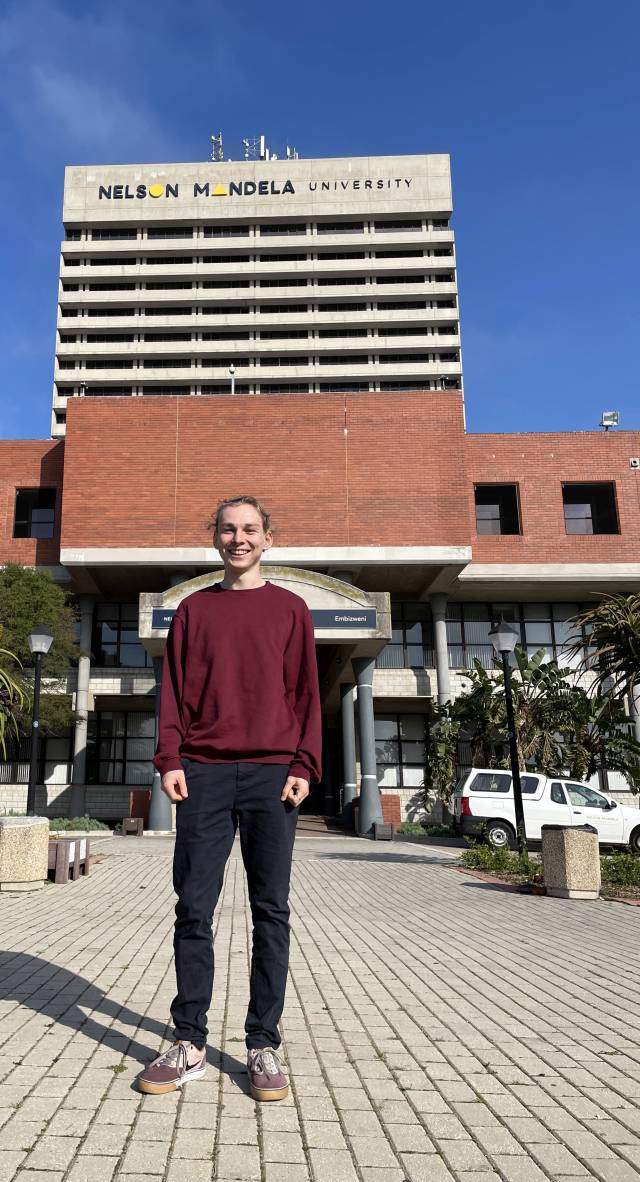 Ostfalia student Julian Mayer in fornt of the Nelson-Mandela-University in Port Elizabeth.
Foto: (Lara Kurrle/Ostfalia)