Open Mobility Lab
The Open Mobility Lab is a two-storey building on the property owned by the federal state within the Wolfenbüttel university campus, which offers over 600 square metres of flexible research and office space. The special feature is that since winter semester 2021, interdisciplinary and cross-faculty research in the field of intelligent systems for mobility has been conducted here at an international level. The grand opening was conducted in April 2022 due to the Corona pandemic.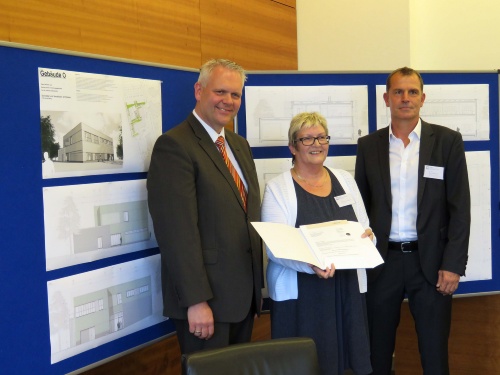 Presentation of the notification of approval: Minister Björn Thümler, President of the Ostfalia Rosemarie Karger and Kai Hillebrecht, Vice Head of Knowledge and Technology Transfer.
To ensure high-quality research, targeted additions to existing research equipment are necessary. This includes an EMC anechoic chamber at a cost of approximately €350,000, which will be used for testing electromagnetic compatibility, and a complete vehicle test stand costing around €750,000. The Open Mobility Lab will thus provide attractive research infrastructures for researchers from the Ostfalia and for research partners, for example, those from the industrial sector. Cooperation with project partners, such as Volkswagen AG in Wolfsburg and IAV GmbH in Gifhorn, will be strengthened thanks to the construction of the new research building, and will thus contribute to the strengthening of the regional economy.
"With this new building, we are creating a modern research infrastructure, enabling applied research at the highest level," explained Lower Saxony's Minister for Science and Culture, Björn Thümler.
The new research building, which will cost around €6.3mil., will be financed 50% by the ERDF (approximately €3.15mil.), from federal state funds (approximately €2.47mil.) and also from the university's own funds (around €680,000). Prof. Dr. Gert Bikker, Ostfalia's Vice President for Research, Development and Technology Transfer has overall responsibility for the infrastructure project, and is in charge of the specialist project leadership and organisation at the Wolfenbüttel site.
Prof. Dr. Rosemarie Karger, President of Ostfalia, is delighted with the approval of the new building: "With the new research building, we are getting state-of-the-art laboratory facilities and are thus considerably improving the opportunities we offer for interdisciplinary research on intelligent concepts for mobility. It is not customary for universities of applied sciences to have a construction approved which is purely for research purposes – this is a first for us. We are therefore pleased particularly, in view of the fact that the space is urgently needed."
Your contact person is Kai Hillebrecht