Since 1998, a university partnership exists between Ostfalia University of Applied Sciences and Nelson Mandela University (NMU) in Gqeberha, South Africa, in the field of automotive engineering. The mission of the cooperation is to support the exchange between scientists, teachers and students within the field. The cooperation is led by Ostfalia's interest group for automotive acoustics and drive technology (Interessengemeinschaft Fahrzeugakustik und Antriebstechnik, IFA) and by NMU's Department of Mechanical Engineering of the Faculty of Engineering. Over the last few years, other departments and faculties of both universities, for example the Faculty of Economics in Wolfsburg and the Faculty of Business and Economic Sciences of NMU, have signed cooperation agreements and established exchange programmes for students. Close relations also exist in the field of sports management.
In 2007, the German Academic Exchange Service (Deutscher Akademischer Austauschdienst, DAAD) and Volkswagen of South Africa (VW SA) provided support in creating a professorship for automotive engineering at NMU. The so-called "VWSA3-DAAD International Chair in Automotive Engineering at NMU" has been established over the last ten years and had become an additional pull factor for German and South-African Students who wanted to complete a study semester at NMU or an internship semester in the surrounding automotive technology or industry. Despite the end of the financial support for the professorship by DAAD and VW SA in 2017, the cooperation and exchange are being continued.
The State Chancellery of Lower Saxony (Niedersächsische Staatskanzlei) supports the scientific cooperation between NMU and Ostfalia since 1998.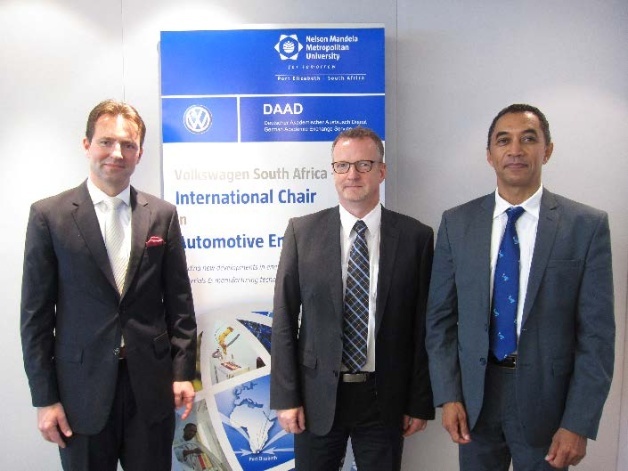 Extension of the Chair-Treaty (2015). On the picture, from left to right, are: Thomas Schäfer CEO VWSA, Prof. Dr.-Ing. Udo Becker International Chair, Derek Swarz VC NMMU.